About Us
Kings Garden Chinese Takeaway is a Chinese takeaway in Wakefield. Why don't you try our Deep Fried Tofu or Kung Po Chilli House Special?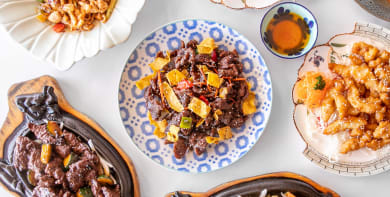 Reviews
423 reviews
Martin
"First time order - will use again!"
24/04/2021
Ruth
"Always a winner! Great food, accurate delivery. Definitely recommend!"
17/04/2021
tammy
"Thanks for reading the notes 😊 great service and food as usual"
12/04/2021
David
"Excellent food and service ."
04/04/2021
Menu
Roast Pork with Mushrooms
£5.70
Roast Pork with Bamboo Shoots & Water Chestnuts
£5.70
Roast Pork in Oyster Sauce
£5.70
Roast Pork in Satay Sauce
£5.70
Kung Po Chilli Roast Pork
Hot & spicy
£5.70
Roast Pork with Green Pepper in Black Bean Sauce
£5.70
Roast Pork in Black Pepper Sauce
Hot & spicy
£5.70
Roast Pork in Spicy Szechuan Sauce
Hot & spicy
£5.70
Roast Pork in Thai Chilli Sauce
Hot & spicy
£5.70
Fried Roast Pork BBQ Style on Bean Sprouts
£5.70
Roast Pork in Peking Sauce
£5.70
Crispy House Special Mongolian Style
£6.20
Crispy Chicken Mongolian Style
£6.20
Crispy Beef Mongolian Style
£6.20
Crispy King Prawns Mongolian Style
£6.20
Crispy Pork Mongolian Style
£6.20
Stir Fried Three Delicious
£6.20
Roast Duck with Mushrooms
£6.50
Roast Duck with Chinese Mushrooms
& Bamboo shoots
£6.50
Roast Duck with Seasonal Vegetables
£6.50
Roast Duck with Ginger & Spring Onion
£6.20
Roast Duck with Leek & Garlic
£6.50
Roast Duck with Chilli & Garlic
Hot & spicy
£6.50
Roast Duck in Oyster Sauce
£6.50
Roast Duck in Satay Sauce
£6.50
Kung Po Chilli Duck
Hot & spicy
£6.50
Roast Duck with Green Pepper in Black Bean Sauce
£6.50
Roast Duck in Black Pepper Sauce
Hot & spicy
£6.50
Roast Duck in Spicy Szechuan Sauce
Hot & spicy
£6.50
Roast Duck in Thai Chilli Sauce
Hot & spicy
£6.50
Roast Duck in Peking Sauce
£6.50
Plain Omelette with Chips
£5.00
Mushroom Omelette with Chips
£5.20
Chicken Omelette with Chips
£6.20
Roast Pork Omelette with Chips
£6.20
Shrimp Omelette with Chips
£6.00
King Prawn Omelette with Chips
£6.70
Special Omelette with Chips
£6.70
Sweet & Sour Sauce Chicken Balls
Vegetable Mini Spring Rolls
Main Course Roast Pork Dish
Main Course King Prawn Dish
£0.60
Main Course Roast Duck Dish
£0.60
Chef's Special Crispy House Special Mongolian Style
Chef's Special Crispy Chicken Mongolian Style
Chef's Special Crispy Beef Mongolian Style
Chef's Special Crispy King Prawns Mongolian Style
Chef's Special Crispy Pork Mongolian Style
Chef's Special Wandering Dragon
Chef's Special Stir Fried Three Delicious
King Prawn Chinese Mushrooms & Bamboo Shoots
King Prawn Seasonal Vegetables
King Prawn Ginger & Spring Onion
King Prawn Chilli & Garlic (Hot & Spicy)
King Prawn Kung Po Chilli (Hot & Spicy)
King Prawn Green Pepper in Black Bean Sauce (Hot & Spicy)
King Prawn Black Pepper Sauce (Hot & Spicy)
King Prawn Spicy Szechuan Sauce (Hot & Spicy)
King Prawn Thai Chilli Sauce (Hot & Spicy)
Chicken Chinese Mushrooms & Bamboo Shoots
Chicken Seasonal Vegetables
Chicken Bamboo Shoots & Water Chestnuts
Chicken Ginger & Spring Onion
Chicken Crispy Chicken in OK sauce
Chicken Chilli & Garlic (Hot & Spicy)
Chicken Kung Po Chilli (Hot & Spicy)
Chicken Green Pepper in Black Bean Sauce
Chicken in Black Pepper Sauce (Hot & Spicy)
Chicken in Spicy Szechuan Sauce (Hot & Spicy)
Chicken in Thai Chilli Sauce (Hot & Spicy)
Chicken Fried Chicken BBQ Style on Bean Sprouts
Chicken Crispy Shredded Chicken in Chilli Sauce (Hot & Spicy)
Roast Duck in Sauce Mushrooms
Roast Duck in Sauce Chinese Mushrooms & Bamboo Shoots
Roast Duck in Sauce Seasonal Vegetables
Roast Duck in Sauce Ginger & Spring Onion
Roast Duck in Sauce Lee & Garlic
Roast Duck in Sauce Chilli & Garlic (Hot & Spicy)
Roast Duck in Sauce Oyster Sauce
Roast Duck in Sauce Chop Suey
Roast Duck in Sauce Satay Sauce
Roast Duck in Sauce Kung Po Chilli (Hot & Spicy)
Roast Duck in Sauce Green Pepper in Black Bean Sauce (Hot & Spicy)
Roast Duck in Sauce Black Pepper Sauce (Hot & Spicy)
Roast Duck in Sauce Spicy Szechuan Sauce (Hot & Spicy)
Roast Duck in Sauce Thai Chilli Sauce (Hot & Spicy)
Roast Duck in Sauce Orange or Plum or Lemon Sauce
Roast Duck in Sauce Peking Sauce
Beef Chinese Mushrooms & Bamboo Shoots
Beef Ginger & Spring Onion
Beef Crispy Beef in OK Sauce
Beef Chilli & Garlic (Hot & Spicy)
Beef Kung Po Chilli (Hot & Spicy)
Beef Green Pepper in Black Bean Sauce
Beef in Black Pepper Sauce (Hot & Spicy)
Beef in Spicy Szechuan Sauce (Hot & Spicy)
Beef in Thai Chilli Sauce (Hot & Spicy)
Beef Crispy Shredded Beef in Chilli Sauce (Hot & Spicy)
Roast Pork Bamboo Shoots & Water Chestnuts
Roast Pork Ginger & Spring Onion
Roast Pork Kung Po Chilli (Hot & Spicy)
Roast Pork Green Pepper in Black Bean Sauce
Roast Pork Black Pepper Sauce
Roast Pork Spicy Szechuan Sauce
Roast Pork Thai Chilli Sauce
Roast Pork BBQ Style on Bean Sprouts
Sweet & Sour Special Hong Kong Style
Sweet & Sour King Prawns Hong Style
Sweet & Sour Chicken Hong Kong Style
Sweet & Sour Pork Hong Kong Style
Sweet & Sour Special Balls in Batter
Sweet & Sour King Prawn Balls in Batter
Sweet & Sour Chicken Balls in Batter
Sweet & Sour Pork Balls in Batter
House Special Chine Mushrooms & Bamboo Shoots
House Special Seasonal Vegetables
House Special Ginger & Spring Onion
House Special in Oyster Sauce
House Special in Satay Sauce
House Special Kung Po Chilli (Hot & Spicy)
House Special Green Pepper in Black Bean Sauce
House Special Black Pepper Sauce (Hot & Spicy)
House Special Spicy Szechuan Sauce (Hot & Spicy)
House Special in OK Sauce
House Special Chilli & Garlic (Hot & Spicy)
House Special Peking Sauce
Chicken Curry
Hot & spicy
£5.70
Roast Pork Curry
Hot & spicy
£5.70
Mushroom Curry
Hot & spicy
£5.20
Mixed Vegetable Curry
Hot & spicy
£5.20
King Prawn Curry
Hot & spicy
£6.20
Roast Duck Curry
Hot & spicy
£6.50
House Special Curry
Hot & spicy
£6.20
House Special with Mushrooms
£6.20
House Special with Chinese Mushrooms
& Bamboo shoots
£6.20
House Special with Seasonal Vegetables
£6.20
House Special in Oyster Sauce
£6.20
House Special in Satay Sauce
£6.20
Kung Po Chilli House Special
Hot & spicy
£6.20
House Special with Green Pepper in Black Bean
Sauce
£6.20
House Special in Black Pepper Sauce
Hot & spicy
£6.20
House Special in Spicy Szechuan Sauce
Hot & spicy
£6.20
House Special in OK Sauce
£6.20
House Special with Chilli & Garlic
Hot & spicy
£6.20
House Special in Peking Sauce
£6.20
Starter Box
Prawn on toast, seaweed, vegetable mini spring rolls, dry spare ribs, dry chicken wings & sweet & sour sauce
£7.80
Chilli, Salt & Pepper Starter Box
Hot & spicy
£8.00
Crispy Aromatic Duck Quarter
£8.70
Crispy Aromatic Duck Half
£15.80
Crispy Meat Spring Rolls (2)
£3.20
Vegetable Mini Spring Rolls (12)
£3.00
Vegetable Curry Samosas (12)
Hot & spicy
£3.00
Sesame Prawn on Toast (9)
£4.50
Deep Fried Chicken with Chilli, Salt & Pepper
Hot & spicy
£5.50
Deep Fried King Prawns with Chilli
Salt & pepper
Hot & spicy
£6.50
Deep Fried Chicken Wings BBQ Sauce
Choice of: BBQ sauce or salt & pepper (hot & spicy)
£5.20
Deep Fried Chicken Wings Salt & Pepper (Hot & Spicy)
Choice of: BBQ sauce or salt & pepper (hot & spicy)
£5.20
Barbecued Spare Ribs BBQ Sauce
Choice of: BBQ sauce, salt & pepper (hot & spicy), Thai hot chilli (hot & spicy), honey sauce, capital style, dry or chilli (hot & spicy)
£5.80
Barbecued Spare Ribs Salt & Pepper (Hot & Spicy)
Choice of: BBQ sauce, salt & pepper (hot & spicy), Thai hot chilli (hot & spicy), honey sauce, capital style, dry or chilli (hot & spicy)
£5.80
Barbecued Spare Ribs Thai Hot Chilli (Hot & Spicy)
Choice of: BBQ sauce, salt & pepper (hot & spicy), Thai hot chilli (hot & spicy), honey sauce, capital style, dry or chilli (hot & spicy)
£5.80
Barbecued Spare Ribs Honey Sauce
Choice of: BBQ sauce, salt & pepper (hot & spicy), Thai hot chilli (hot & spicy), honey sauce, capital style, dry or chilli (hot & spicy)
£5.80
Barbecued Spare Ribs Capital Style
Choice of: BBQ sauce, salt & pepper (hot & spicy), Thai hot chilli (hot & spicy), honey sauce, capital style, dry or chilli (hot & spicy)
£5.80
Barbecued Spare Ribs Chilli (Hot & Spicy)
Choice of: BBQ sauce, salt & pepper (hot & spicy), Thai hot chilli (hot & spicy), honey sauce, capital style, dry or chilli (hot & spicy)
£5.80
Barbecued Spare Ribs Dry
Choice of: BBQ sauce, salt & pepper (hot & spicy), Thai hot chilli (hot & spicy), honey sauce, capital style, dry or chilli (hot & spicy)
£5.80
Hot & Sour Soup
Hot & spicy
£3.00
Crab Meat & Sweetcorn Soup
£3.00
Cream Chicken & Mushroom Soup
£3.00
Fried Chicken BBQ Style on Chow Mein
£5.70
Roast Pork BBQ Style on Chow Mein
£5.70
Roast Duck BBQ Style on Chow Mein
£6.20
Mixed Vegetable Chow Mein
£5.20
Singapore Chow Mein
Hot & spicy
£6.00
Singapore Vermicelli
Hot & spicy
£6.00
Chips with Sauce Curry (Hot & Spicy)
£3.00
Chips with Sauce Sweet & Sour
£3.00
Fried Rice with Sauce Curry (Hot & Spicy)
£3.50
Fried Rice with Sauce Sweet & Sour
£3.50
Egg Fried Rice & Chips with Curry Sauce
Hot & spicy
£3.80
Sauce Curry (Hot & Spicy)
£1.50
Salt & Pepper Chips
Hot & spicy
£3.20
Beef with Chinese Mushrooms & Bamboo Shoots
£5.70
Beef with Seasonal Vegetables
£5.70
Beef with Chilli & Garlic
Hot & spicy
£5.70
Kung Po Chilli Beef
Hot & spicy
£5.70
Beef with Green Pepper in Black Bean Sauce
£5.70
Beef in Black Pepper Sauce
Hot & spicy
£5.70
Beef in Spicy Szechuan Sauce
Hot & spicy
£5.70
Beef in Thai Chilli Sauce
Hot & spicy
£5.70
Crispy Shredded Beef with Chilli Sauce
Hot & spicy
£5.70
Special Set Dinner A For 2 People
Crispy spring rolls (2)
Spare ribs (2)
Prawn on toast
Choose 2 dishes
Special fried rice (2)
Prawn crackers
£19.00
Special Set Dinner B For 3 People
Crispy spring rolls (3)
Spare ribs (3)
Chicken wings (3)
Quarter crispy aromatic duck
Choose 3 dishes
Special fried rice (3)
Prawn crackers
£32.00
Special Set Dinner C For 4 People
Crispy spring rolls (4)
Spare ribs (4),
Chicken wings (4)
Prawn on toast
Choose 4 dishes
Special fried rice (4)
Prawn crackers
£39.00
Chicken with Chinese Mushrooms & Bamboo Shoots
£5.70
Chicken with Seasonal Vegetables
£5.70
Chicken with Bamboo Shoots & Water Chestnuts
£5.70
Chicken with Leek & Garlic
£5.70
Crispy Chicken in OK Sauce
£5.70
Chicken with Chilli & Garlic
Hot & spicy
£5.70
Kung Po Chilli Chicken
Hot & spicy
£5.70
Chicken with Green Pepper in Black Bean Sauce
£5.70
Chicken in Black Pepper Sauce
Hot & spicy
£5.70
Chicken in Spicy Szechuan Sauce
Hot & spicy
£5.70
Chicken in Thai Chilli Sauce
Hot & spicy
£5.70
Fried Chicken BBQ Style on Bean Sprouts
£5.70
Crispy Shredded Chicken with Chilli Sauce
Hot & spicy
£5.70
Stir Fried Mushrooms with Garlic
£3.50
Stir Fried Mixed Vegetables with Garlic
£3.50
Mixed Vegetables Sweet & Sour Sauce
£3.50
Mixed Vegetables Satay Sauce
£3.50
Mixed Vegetables Black Bean Sauce
£3.50
Mixed Vegetables Chilli & Garlic Sauce (Hot & Spicy)
£3.50
Mixed Vegetables Thai Style (Hot & Spicy)
£3.50
Deep Fried Tofu Satay Sauce
£4.80
Deep Fried Tofu Black Bean Sauce
£4.80
Deep Fried Tofu Chilli & Garlic Sauce (Hot & Spicy)
£4.80
King Prawns with Mushrooms
£6.20
King Prawns with Chinese Mushrooms
& Bamboo shoots
£6.20
King Prawns with Seasonal Vegetables
£6.20
King Prawns with Cashew Nuts
£6.20
King Prawns with Chilli & Garlic
Hot & spicy
£6.20
King Prawns in Oyster Sauce
£6.20
King Prawns in Satay Sauce
£6.20
Kung Po Chilli King Prawns
Hot & spicy
£6.20
King Prawns with Green Pepper in Black Bean
Sauce
Hot & spicy
£6.20
King Prawns in Black Pepper Sauce
Hot & spicy
£6.20
King Prawns in Spicy Szechuan Sauce
Hot & spicy
£6.20
King Prawns in Thai Chilli Sauce
Hot & spicy
£6.20
King Prawns in Peking Sauce
£6.20
Fried Chicken BBQ Style on Fried Rice
£5.70
Roast Pork BBQ Style on Fried Rice
£5.70
Roast Duck BBQ Style on Fried Rice
£6.20
Mixed Vegetable Fried Rice
£5.20
Singapore Fried Rice
Hot & spicy
£5.70
Sweet & Sour Special Hong Kong Style
£6.20
Sweet & Sour King Prawns Hong Kong Style
£6.20
Sweet & Sour Chicken Hong Kong Style
£5.70
Sweet & Sour Pork Hong Kong Style
£5.70
Sweet & Sour Chicken Balls in Batter
£5.70
Contact Us
Find Us
2 First Avenue Wickfield, Newton Hill, Wakefield, WF12HS
We deliver to
WF1, WF2, WF3