About Us
Kings Garden Chinese Takeaway is a Chinese takeaway in Wakefield. Why don't you try our Deep Fried Tofu or Kung Po Chilli House Special?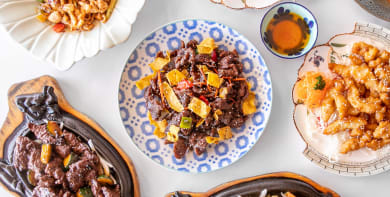 Reviews
362 reviews
tammy
"Amazing as always, thank you for remembering I don't like peas in my fried rice 😁"
11/06/2021
Aaron
"Acidic sweet and sour sauce"
07/06/2021
Sam
"The best Chinese in my area Good portions Hot & tasty Prawn toast is amazing The best chicken curry"
06/06/2021
Chris
"Perfect food as always. A++"
04/06/2021
Menu
Starter Box
Prawn on toast, seaweed, vegetable mini spring rolls, dry spare ribs, dry chicken wings & sweet & sour sauce
£7.80
Chilli, Salt & Pepper Starter Box
Hot & spicy
£8.00
Crispy Aromatic Duck Quarter
£8.70
Crispy Aromatic Duck Half
£15.80
Crispy Meat Spring Rolls (2)
£3.20
Vegetable Mini Spring Rolls (12)
£3.00
Vegetable Curry Samosas (12)
Hot & spicy
£3.00
Sesame Prawn on Toast (9)
£4.50
Deep Fried Chicken Wings BBQ Sauce
Choice of: BBQ sauce or salt & pepper (hot & spicy)
£5.20
Deep Fried Chicken Wings Salt & Pepper (Hot & Spicy)
Choice of: BBQ sauce or salt & pepper (hot & spicy)
£5.20
Deep Fried Chicken with Chilli, Salt & Pepper
Hot & spicy
£5.50
Barbecued Spare Ribs BBQ Sauce
Choice of: BBQ sauce, salt & pepper (hot & spicy), Thai hot chilli (hot & spicy), honey sauce, capital style, dry or chilli (hot & spicy)
£5.80
Barbecued Spare Ribs Capital Style
Choice of: BBQ sauce, salt & pepper (hot & spicy), Thai hot chilli (hot & spicy), honey sauce, capital style, dry or chilli (hot & spicy)
£5.80
Barbecued Spare Ribs Chilli (Hot & Spicy)
Choice of: BBQ sauce, salt & pepper (hot & spicy), Thai hot chilli (hot & spicy), honey sauce, capital style, dry or chilli (hot & spicy)
£5.80
Barbecued Spare Ribs Dry
Choice of: BBQ sauce, salt & pepper (hot & spicy), Thai hot chilli (hot & spicy), honey sauce, capital style, dry or chilli (hot & spicy)
£5.80
Barbecued Spare Ribs Honey Sauce
Choice of: BBQ sauce, salt & pepper (hot & spicy), Thai hot chilli (hot & spicy), honey sauce, capital style, dry or chilli (hot & spicy)
£5.80
Barbecued Spare Ribs Salt & Pepper (Hot & Spicy)
Choice of: BBQ sauce, salt & pepper (hot & spicy), Thai hot chilli (hot & spicy), honey sauce, capital style, dry or chilli (hot & spicy)
£5.80
Barbecued Spare Ribs Thai Hot Chilli (Hot & Spicy)
Choice of: BBQ sauce, salt & pepper (hot & spicy), Thai hot chilli (hot & spicy), honey sauce, capital style, dry or chilli (hot & spicy)
£5.80
Deep Fried King Prawns with Chilli
Salt & pepper
Hot & spicy
£6.50
Hot & Sour Soup
Hot & spicy
£3.00
Crab Meat & Sweetcorn Soup
£3.00
Cream Chicken & Mushroom Soup
£3.00
Crispy House Special Mongolian Style
£6.20
Crispy Chicken Mongolian Style
£6.20
Crispy Beef Mongolian Style
£6.20
Crispy King Prawns Mongolian Style
£6.20
Crispy Pork Mongolian Style
£6.20
Stir Fried Three Delicious
£6.20
King Prawns with Mushrooms
£6.20
King Prawns with Chinese Mushrooms
& Bamboo shoots
£6.20
King Prawns with Seasonal Vegetables
£6.20
King Prawns with Cashew Nuts
£6.20
King Prawns with Chilli & Garlic
Hot & spicy
£6.20
King Prawns in Oyster Sauce
£6.20
King Prawns in Satay Sauce
£6.20
Kung Po Chilli King Prawns
Hot & spicy
£6.20
King Prawns with Green Pepper in Black Bean
Sauce
Hot & spicy
£6.20
King Prawns in Black Pepper Sauce
Hot & spicy
£6.20
King Prawns in Spicy Szechuan Sauce
Hot & spicy
£6.20
King Prawns in Thai Chilli Sauce
Hot & spicy
£6.20
King Prawns in Peking Sauce
£6.20
Roast Duck with Mushrooms
£6.50
Roast Duck with Chinese Mushrooms
& Bamboo shoots
£6.50
Roast Duck with Seasonal Vegetables
£6.50
Roast Duck with Ginger & Spring Onion
£6.20
Roast Duck with Leek & Garlic
£6.50
Roast Duck with Chilli & Garlic
Hot & spicy
£6.50
Roast Duck in Oyster Sauce
£6.50
Roast Duck in Satay Sauce
£6.50
Kung Po Chilli Duck
Hot & spicy
£6.50
Roast Duck with Green Pepper in Black Bean Sauce
£6.50
Roast Duck in Black Pepper Sauce
Hot & spicy
£6.50
Roast Duck in Spicy Szechuan Sauce
Hot & spicy
£6.50
Roast Duck in Thai Chilli Sauce
Hot & spicy
£6.50
Roast Duck in Peking Sauce
£6.50
Chicken with Chinese Mushrooms & Bamboo Shoots
£5.70
Chicken with Seasonal Vegetables
£5.70
Chicken with Bamboo Shoots & Water Chestnuts
£5.70
Chicken with Leek & Garlic
£5.70
Crispy Chicken in OK Sauce
£5.70
Chicken with Chilli & Garlic
Hot & spicy
£5.70
Kung Po Chilli Chicken
Hot & spicy
£5.70
Chicken with Green Pepper in Black Bean Sauce
£5.70
Chicken in Black Pepper Sauce
Hot & spicy
£5.70
Chicken in Spicy Szechuan Sauce
Hot & spicy
£5.70
Chicken in Thai Chilli Sauce
Hot & spicy
£5.70
Fried Chicken BBQ Style on Bean Sprouts
£5.70
Crispy Shredded Chicken with Chilli Sauce
Hot & spicy
£5.70
Beef with Chinese Mushrooms & Bamboo Shoots
£5.70
Beef with Seasonal Vegetables
£5.70
Beef with Chilli & Garlic
Hot & spicy
£5.70
Kung Po Chilli Beef
Hot & spicy
£5.70
Beef with Green Pepper in Black Bean Sauce
£5.70
Beef in Black Pepper Sauce
Hot & spicy
£5.70
Beef in Spicy Szechuan Sauce
Hot & spicy
£5.70
Beef in Thai Chilli Sauce
Hot & spicy
£5.70
Crispy Shredded Beef with Chilli Sauce
Hot & spicy
£5.70
Roast Pork with Mushrooms
£5.70
Roast Pork with Bamboo Shoots & Water Chestnuts
£5.70
Roast Pork in Oyster Sauce
£5.70
Roast Pork in Satay Sauce
£5.70
Kung Po Chilli Roast Pork
Hot & spicy
£5.70
Roast Pork with Green Pepper in Black Bean Sauce
£5.70
Roast Pork in Black Pepper Sauce
Hot & spicy
£5.70
Roast Pork in Spicy Szechuan Sauce
Hot & spicy
£5.70
Roast Pork in Thai Chilli Sauce
Hot & spicy
£5.70
Fried Roast Pork BBQ Style on Bean Sprouts
£5.70
Roast Pork in Peking Sauce
£5.70
House Special with Mushrooms
£6.20
House Special with Chinese Mushrooms
& Bamboo shoots
£6.20
House Special with Seasonal Vegetables
£6.20
House Special in Oyster Sauce
£6.20
House Special in Satay Sauce
£6.20
Kung Po Chilli House Special
Hot & spicy
£6.20
House Special with Green Pepper in Black Bean
Sauce
£6.20
House Special in Black Pepper Sauce
Hot & spicy
£6.20
House Special in Spicy Szechuan Sauce
Hot & spicy
£6.20
House Special in OK Sauce
£6.20
House Special with Chilli & Garlic
Hot & spicy
£6.20
House Special in Peking Sauce
£6.20
Chicken Curry
Hot & spicy
£5.70
Roast Pork Curry
Hot & spicy
£5.70
Mushroom Curry
Hot & spicy
£5.20
Mixed Vegetable Curry
Hot & spicy
£5.20
King Prawn Curry
Hot & spicy
£6.20
Roast Duck Curry
Hot & spicy
£6.50
House Special Curry
Hot & spicy
£6.20
Sweet & Sour Special Hong Kong Style
£6.20
Sweet & Sour King Prawns Hong Kong Style
£6.20
Sweet & Sour Chicken Hong Kong Style
£5.70
Sweet & Sour Pork Hong Kong Style
£5.70
Sweet & Sour Chicken Balls in Batter
£5.70
Fried Chicken BBQ Style on Chow Mein
£5.70
Roast Pork BBQ Style on Chow Mein
£5.70
Roast Duck BBQ Style on Chow Mein
£6.20
Mixed Vegetable Chow Mein
£5.20
Singapore Chow Mein
Hot & spicy
£6.00
Singapore Vermicelli
Hot & spicy
£6.00
Fried Chicken BBQ Style on Fried Rice
£5.70
Roast Pork BBQ Style on Fried Rice
£5.70
Roast Duck BBQ Style on Fried Rice
£6.20
Mixed Vegetable Fried Rice
£5.20
Singapore Fried Rice
Hot & spicy
£5.70
Plain Omelette with Chips
£5.00
Mushroom Omelette with Chips
£5.20
Chicken Omelette with Chips
£6.20
Roast Pork Omelette with Chips
£6.20
Shrimp Omelette with Chips
£6.00
King Prawn Omelette with Chips
£6.70
Special Omelette with Chips
£6.70
Stir Fried Mushrooms with Garlic
£3.50
Stir Fried Mixed Vegetables with Garlic
£3.50
Mixed Vegetables Black Bean Sauce
£3.50
Mixed Vegetables Chilli & Garlic Sauce (Hot & Spicy)
£3.50
Mixed Vegetables Satay Sauce
£3.50
Mixed Vegetables Sweet & Sour Sauce
£3.50
Mixed Vegetables Thai Style (Hot & Spicy)
£3.50
Deep Fried Tofu Black Bean Sauce
£4.80
Deep Fried Tofu Chilli & Garlic Sauce (Hot & Spicy)
£4.80
Deep Fried Tofu Satay Sauce
£4.80
Chips with Sauce Curry (Hot & Spicy)
£3.00
Chips with Sauce Sweet & Sour
£3.00
Fried Rice with Sauce Curry (Hot & Spicy)
£3.50
Fried Rice with Sauce Sweet & Sour
£3.50
Egg Fried Rice & Chips with Curry Sauce
Hot & spicy
£3.80
Sauce Curry (Hot & Spicy)
£1.50
Salt & Pepper Chips
Hot & spicy
£3.20
Special Set Dinner A For 2 People
Crispy spring rolls (2)
Spare ribs (2)
Prawn on toast
Choose 2 dishes
Special fried rice (2)
Prawn crackers
£19.00
Special Set Dinner B For 3 People
Crispy spring rolls (3)
Spare ribs (3)
Chicken wings (3)
Quarter crispy aromatic duck
Choose 3 dishes
Special fried rice (3)
Prawn crackers
£32.00
Special Set Dinner C For 4 People
Crispy spring rolls (4)
Spare ribs (4),
Chicken wings (4)
Prawn on toast
Choose 4 dishes
Special fried rice (4)
Prawn crackers
£39.00
Contact Us
Find Us
2 First Avenue Wickfield, Newton Hill, Wakefield, WF12HS
We deliver to
WF1, WF2, WF3